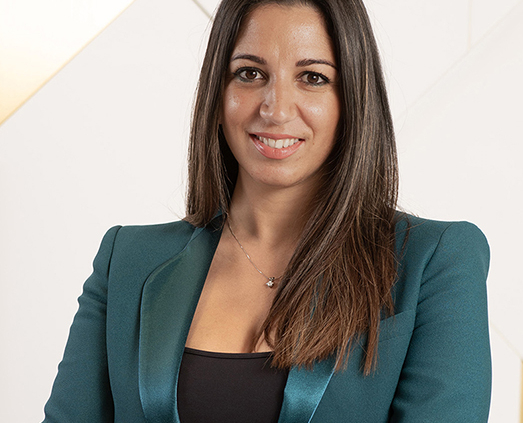 Denise Micallef Xuereb is CEO of AX Real Estate, a role she stepped into after being Director of Construction and Development at AX Group. As one of the few women operating in the top echelons of real estate and construction in Malta, Ms Micallef Xuereb has accumulated significant milestones and breakthroughs throughout her career. As the daughter of AX Group Chairman and Founder Angelo Xuereb, Ms Micallef Xuereb has been enthralled by buildings and design since her teens, and has sought to follow in her father's footsteps while forging her own path within Malta's property sector. After graduating in Management from the University of Malta, Ms Micallef Xuereb's first major project was to oversee the final stages of the five-star AX The Palace Hotel in Sliema in 2008. She then embarked on an MSc in Project and Programme Management at the prestigious École Supérieure de Commerce in Paris – on the back of which she managed the construction of the New Parliament Buildings and Opera House, one of the most extensive construction projects carried out in Valletta.
As Director of AX Construction from 2010, Ms Micallef Xuereb spearheaded the company's restoration division with a talented team capable of conducting high-quality restoration works on Malta's stone heritage. Under her directorship, AX Construction's reputation went from strength to strength. It was entrusted with many landmark construction and restoration projects, including the restoration of St John's Co-Cathedral and the building of its new visitor centre; the development of AX Business Centre in Mosta; Farsons Brewhouse's conversion in Mrieħel; the Maritime Museum's rehabilitation in Vittoriosa; and the restoration and construction of a visitor centre at St Paul's Catacombs in Rabat.
Ms Micallef Xuereb has served as an Executive Director on the board of AX Group for the past decade. She is also a council member of the Malta Developers' Association, a member of the Chamber of Commerce, and an active participant in the Building Industry Consultative Council, where she champions sustainable development and eco-friendly advances within the sector. With her participation in various forums and conferences, Ms Micallef Xuereb remains at the forefront of innovative ideas on the international scene. Steadfast in her vision, she pursues projects and investments where quality design meets practical functionality that will serve well into the future.
https://axinvestor-relations.mt/wp-content/uploads/2022/07/Denise-Michallef-Xuereb-Cropped-2.jpg
634
523
[email protected]
https://axinvestor-relations.mt/wp-content/uploads/2022/08/AXInvestorRelationsWhite.svg
[email protected]
2022-07-18 12:18:06
2023-04-24 12:42:53
Denise Xuereb